Deirdre's short dance film 'Lucia Joyce: Full Capacity', starring Evanna Lynch, premiered at Bloomsday Trieste 2019, followed by Kerry International Film Festival in Killarney on October 20th, a Special Event at MoLI Dublin, on October 24th, and the Richard Harris International Film Festival, Limerick, on October 27th, where Evanna was nominated for Best Actor in a Female Role.  In 2020 the film was featured in Dublin's Bloomsday Festival, at IFF International Film Festival, Elysium Gallery, Swansea, Waterford Film Festival; MexIndex "Displacements" curated by Richard Ashrowan; ThinkND Kylemore Bookclub with Declan Kiberd, and Paul Muldoon's Princeton University FÍS series. In 2021 so far it has been selected for Rejkavik Feminist Film Festival, and Light Moves Festival of Screendance (Sept 27 – 30).
In 2017, Deirdre produced and directed "TRUE NORTH: Paud Mulrooney's Irish-Canadian Adventures in Super 8" (ACSI "Borders & Beyond' Conference, 2021; Canadian Independent Film Festival, 2020; Richard Harris International Film Festival 2019 (Nominee, Best Documentary Category); Belgrade-Irish Festival 2018; Canada Day screening at The Dark Room, Dublin, 2017; post Pow Wow Screening, Ogoki Post, North Ontario, August 2017), a short documentary featuring her father's Super 8 films from the 1970s and 1980s offering a rare glympse into life on First Nations Reserves in North Ontario, where her parents ran the local schools. Renowned Canadian novelist Jane Urquhart screened 'True North' for her Canadian Studies class at UCD in 2018, while UCD Craig Dobbin Visiting Professor of Canadian Studies, commenting "… I personally found your elegiac film very moving, and that the coming together of your Irish parents and their children, with the people of the Aboriginal community and their children, shows how authentic respect for Aboriginal traditions can build relationships and enrich the lives of everyone involved."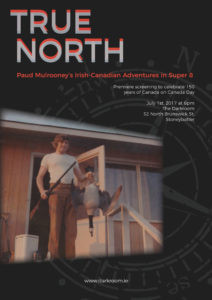 Deirdre was also commissioned by Oliver Sears Gallery in 2017 to make a short film about painter Colin Davidson's exhibition "Jerusalem" (John Hewitt School, 2017; 92Y, NYC).
Deirdre's film "1943 – A Dance Odyssey" was first broadcast on RTÉ One on Easter Monday 2013. Screenings included Bealtaine Festival 2013 at Ballymun Axis Theatre; Galway Culture Night 2013 at Druid Theatre; Galway Film Fleadh 2014; Dublin Festival of History 2016, at Pearse Street Library, and a Gala reunion screening at TCD Samuel Beckett Theatre hosted by Ruth Barton, in 2015.
Once upon a time, during World War Two (or "The Emergency", as it was known in Ireland), enigmatic Irish-German woman Erina Brady brought cutting edge Modern Dance to Ireland, from Germany. A forgotten reel of film by Irish film industry founder Liam O'Laoghaire immortalised the mysterious modern dancer teaching her tiny pupils in her Harcourt Street Studio and dancing freely in the open air in his 1943 gem of a film, "Dance School".
Setting eyes on this rare footage for the first time, 1943 – A Dance Odyssey brings five of Brady's former tiny tots on an odyssey to a bygone era in her enchanted Irish School of Dance Art studio.
Seventy years on, 1943 – A Dance Odyssey, explores who were these dancing tiny tots, attempting an arabesque, and stretching out their little limbs in barefoot dance of expression? Where did the dance of life take them?
Unlocking fond memories of those extraordinary classes the women share how the modern dance pioneer influenced their lives, and opened them up to a lifetime of creativity.
"Dance Emergency"/ "Damhsa na hEigeandala"
, Deirdre's hour long TG4 Splanc thriller/modern dance documentary set in 1940s Dublin, premiered at Galway Film Fleadh in July 2014, and had its TG4 premiere broadcast in January 2015. Dance Emergency was selected for screening at the Belgrade-Irish Festival in March 2015; its North American Premiere took place at the prestigious Dance on Camera Festival, Lincoln Center, NYC in February 2016 (kindly supported by Culture Ireland); its Canadian Premiere took place at Irish Film Festival Ottawa, in 2017; and University of Limerick's Irish-German "Connections in Motion" Conference at the Irish World Academy of Music and Dance featured the film which was the focus of Deirdre's keynote lecture in October 2016. Most appropriately, Dance Emergency's Dublin premiere took place in the Military Archives at Cathal Brugha Barracks – home of Erina Brady's secret G2 file on Culture Night (September 22nd) 2017.
<iframe width="560″ height="315″ src="https://www.youtube.com/embed/95nLw592YiY" frameborder="0″ allow="accelerometer; autoplay; clipboard-write; encrypted-media; gyroscope; picture-in-picture" allowfullscreen></iframe>.
Dancers, detectives, and Dublin's North Strand Bombing: Discover Irish-German Erina Brady's forgotten chapter of Modern Dance in 1940s Ireland.
Against the backdrop of seldom-seen 1940's bohemian Dublin, and suspicions of Nazi espionage, we recount an Irish-German artist's forgotten struggle to bring Modern Dance/ German Ausdruckstanz to a conservative, inchoate Ireland that was not yet ready for it. Interpreted beautifully by the great Olwen Fouéré, choreographed by Jessica Kennedy, we frame Brady's legacy in the context of the thriving contemporary dance scene in Ireland today. Features the late Patrick Scott, as well as Fearghus O Conchuir, Declan Kiberd, Peter Sheridan, Una Kavanagh, Karen Gleeson, Lucia Kickham, Tom Hickey, Pat Laffan, Michael James Ford, Zena Donnelly, and the students of The College of Dance.
In May 2015 Deirdre was commissioned by Dublin City Council Arts Office and Department of Parks to produce and direct "In the Studio with Sculptor Danny Osborne", a short documentary about the making of the Oscar Wilde Memorial Statue in Dublin's Merrion Square by sculptor Danny Osborne. The interview with Danny was shot in his West Cork Studio on the Beara Peninsula on a beautiful sunny day. Part of the DCC "Art in Parks" Project, it is available via QR code at the Oscar Wilde Memorial Statue in Merrion Square and on DCC Website.
Deirdre's Photo-Documentary "Journey to YU (in the footsteps of Rebecca West)" premiered at the Belgrade-Irish Festival in March 2015, supported by Culture Ireland, and crowd-funded via Kickstarter. Its Dublin premiere was at Temple Bar Gallery and Studios in July 2015 as part of Photoireland Festival 2015, and it was subsequently selected for Guth Gafa International Documentary Festival in October 2015, the first Sarajevo-Irish Festival in March 2016, supported by Culture Ireland, and Dublin's Festival of History 2017 at Pearse Street Library.
In November 2011 Deirdre was awarded her second Simon Cumbers Media award to travel to Malawi, where she reported on the part Irish Aid-funded TCD Mechanical Engineering Thermo-Electric generator project. Deirdre reported on her trip for Newstalk's Futureproof; RTE Radio One's
World Report
; wrote an extensive feature for
Village Magazine
; and made
"Off the Grid in Malawi"
an online video for
Village TV
and
Trinity College Dublin Engineering
. "Off the Grid in Malawi" has been seen by nearly 16,000 people so far, including President of Malawi, Joyce Banda, Mary Robinson (former president of Ireland, UN Commissioner, and founder of Mary Robinson Foundation for Climate Justice), and Annie Lennox, and is embedded on TCD Engineering's itunes site.
In 2010, the great Valerie Waters of RTE Nationwide presented a report on Deirdre's background, ongoing research and projects.
"To Be in the Place of Mloukieh", is a collaborative tribute by Gradcam Food Salon to Palestinian artist Larissa Sansour's art video "Soup over Bethlehem", which initially premiered online on www.VULGO.ie in 2011. "To Be in the Place of Mloukieh" screened in FACT at the 2012 Liverpool Biennale. Deirdre brought Sansour's artwork to the collective, researched the recipe with her Palestinian friends, and was a collaborator and re-enactor of Sansour's script in the video.