Deirdre's ongoing work reclaiming Lucia Joyce as a dance artist featured at Dublin's James Joyce Centre from December 13th 2022 to February 2nd 2023, as part of her Saint Lucia's Day Ritual "Come and See Me, I'm a Crossword Puzzle", marking 40 years since Lucia's death on the eve of her saint's day in Northampton in1982. The exhibition was a celebration of Lucia Joyce's overlooked creativity, and included drawings from her Rythme et Couleur sketchbook, a pencil drawing of Lucia by Patrick Tuohy, and other items which had never been seen in public before, from Deirdre's Joyce Studies Annual essay "Fail Better: Lucia Joyce and the Abbey Theatre Ballets".  The exhibition also featured a new abstract watercolour by Lucia inserted into Two Tales of Shem and Shaun (Faber & Faber, 1932), dedicated to her uncle Charles, acquired at auction for the James Joyce Centre with the generous support of Joseph Hassett. The exhibition was co-curated by Deirdre with Darina Gallagher, supported by an Arts Council Agility Award and the James Joyce Centre.  
Since the 70th Anniversary gala reunion of UCD DramSoc, which Deirdre organised (with UCD alumni organisation), around her production of Jennifer Johnston's "The Nightingale and not the Lark", Deirdre has curated many events, and directed many theatre shows.
In 2001 she co-created the Jacobean Western tale of incest and revenge, "ShesaWhore", at Project Cube, in groundbreaking multimedia (at the time!), after an idea by Angela Carter to re-stage John Ford's "tis Pity She's a Whore" in the style of a John Ford Western.
In 2002 she brought Yael Farber's first production to Ireland "He Left Quietly" and co-curated a week of talks, events, rehearsed readings, screenings and an exhibition of drawings around it, entitled "South Africa Week" opening The Space at the Helix.
After her 2004 documentary radio series "Nice Moves" (RTE Radio One), and book Irish Moves (Dublin: The Liffey Press, 2006), CoisCeim Dance Theatre invited Deirdre to curate "Threads", a season of events, screenings, workshops and talks around the Irish-German Modern Dance connection.
Deirdre has also curated several other visual arts exhibitions at the Ormond and with the Blue Leaf Gallery.
On Culture Night (September 21st), 2018 Deirdre was delighted to share her installation and Event "Mother Tongue", related to her work-in-progress "Coosheen's Forgotten Seanchai and Son" at Cathal Brugha Barracks in the Lecture Room of the Military Archives.
A further development of this event, featuring a recording of the great Pat Laffan re-enacting "Croaker", Coosheen's forgotten Seanchai, as well as his great-grand-daughter Anne Daly sharing memories of, and poetry by, her gran-uncle the English-language poet Paddy O'Brien featured at Kilkee's Culturlann Sweeney November 23 – December 21st, 2018.
In July 2015, as part of PhotoIreland Festival, Deirdre produced screenings of her photo-documentary "Journey to YU (in the footsteps of Rebecca West)" at Dublin's Origin Gallery and at Temple Bar Gallery and Studios.
In October 2014, Deirdre produced and curated a reunion screening of her film "1943 – A Dance Odyssey" at TCD Samuel Beckett Theatre, with a post-show discussion moderated by Ruth Barton of TCD Film Studies.
In May 2012 she curated
"Bohemians – Et Ce Chant dans mon Coeur
" exhibition at European Union House in memory of Ireland's first modern dancer, June Kuhn, supported by the Alliance Francaise and the French Embassy – which led to several historical discoveries which Deirdre reveals in her film documentaries
"1943 – A Dance Odyssey"
(RTE) and
"Dance Emergency"
(TG4).
The exhibition and associated talks and events subsequently toured to Culturlann Sweeney, Kilkee, County Clare and to Limerick's Limetree Theatre at Mary Immaculate College.
In 2009 she curated the symposium "The Many Bodies of Contemporary Dance" at Dance House during Dublin Dance Festival, in association with Gradcam, Create and Arts and Disability Ireland.
In May 2009 she co-curated a one day event at Oonagh Young Gallery entitled "Yeats's Forgotten Dancers" as part of her ongoing action research on the Abbey Theatre School of Ballet, which is revealed in her BAI-funded radio documentaries on WB Yeats and his work with choreographers, dancers, and composers at Dublin's Abbey Theatre – broadcast on RTE Lyric FM.
Eureka
Blue Leaf Gallery, May - July 2012
Blue Leaf Gallery Group Exhibition
Co-curator, Author of catalogue note.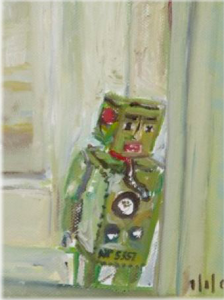 360 Days
Ormond, December 2012
Exhibition of paintings by Margot Quinn – Click Here
Liquidity
Ormond, October 2012
Exhibition by Mella Travers
Up
Ormond, September 2012
Exhibition of paintings by Helen McNulty
Yeats's Forgotten Dancers
Oonagh Young Gallery, May 2010
Co-Curator at the Oonagh Young Gallery
Threads
CoisCeim Dance Theatre, Novemeber 2006
Curator of a series of events and talks on Irish-German contemporary dance connections
Out of the Dark
Amnesty Freedom Café, 2005
Photographs of Rwanda by Deirdre Mulrooney at Amnesty Freedom Café
South Africa Week at the Helix
The Helix, November 2002
Co-curator of events (including a reading by Athol Fugard), screenings, rehearsed readings, discussions and visual art exhibition around "He Left Quietly" by Yael Farber