Lucia Joyce: Full Capacity makes Welsh debut at IFF Film Festival, Elysium Gallery, Swansea
12 August 2020 @ 7:00 pm

-

8:30 pm

Free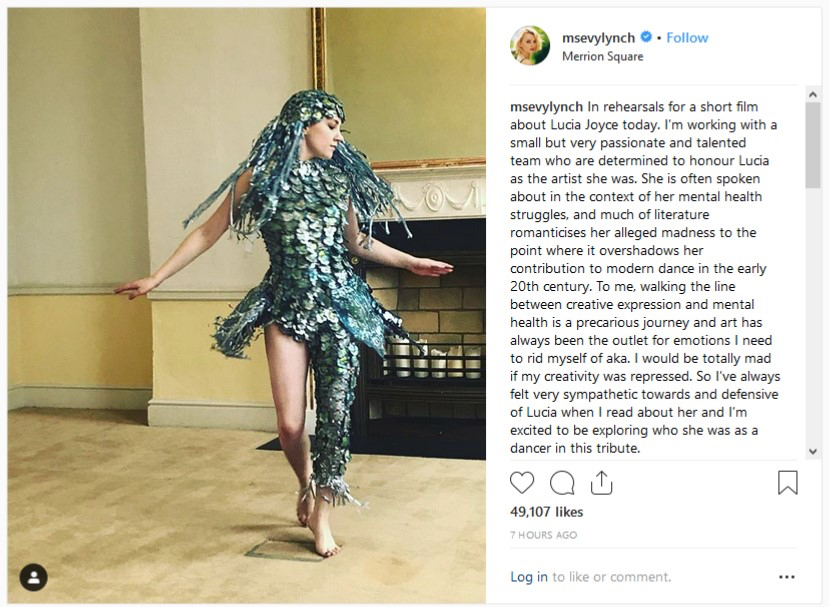 Lucia Joyce: Full Capacity will feature in the elysium International Film Festival Week
on Wednesday August 12th at 7pm.
The festival runs from Weds 12th to Sat 15th August, with four installaments premiering on Elysium Gallery Y
ouTube channel and social media outlets at 7pm UK time. The running order is:
Weds 12th:
Lily Dean, Shir Handelsman, Alexander Iasenko, Deirdre Mulrooney, Behnaz
Fahari
Thurs 13th:#
Tracy Satchwill, Svetlana Ochkovskaya, RV & Oliver Tida Tida, Izaak
Brandt, Diamond Frances, Finn Rabbitt Dove
Fri 14th:
Emily Peacock, Cointeen Trash, Gisela Ferreira, Nirit Rechavi, Zhang
Ruiqi, Kieron Da Silva Beckerton
Sat 15th:
Abel Korinsky, Julia Keenan, Sean Smuda, Javier Velazquez, Mitja Zupanc,
Jack Thomson
Elysium gallery will be reopening from Aug 5th so the films will also be played on a show reel
at some point during the Film week.